RW800i WiFi Thermostat
The latest addition to the Roma Heating range! The RW800i WiFi thermostat not only allows you to control heating from your mobile phone or tablet. It is also fully self reliant, meaning there is no need to purchase an additional router, this thermostat does it all! Control it via the App download for IOS and Android.
Description
The latest RW800i WiFi Thermostat, unlike other WiFi units, does not require an expensive hub for WiFi connectivity. The new RW800i WiFi Thermostat links directly to your phone or tablet etc. and is controlled over WiFi or Internet Connection, so removing the need for any additional equipment or complication.
Simply download the app ( Select the Download Tab ) using your phone or tablet QR code scanner application. This will allow your phone or tablet to link easily with your new RW800i WiFi Thermostat.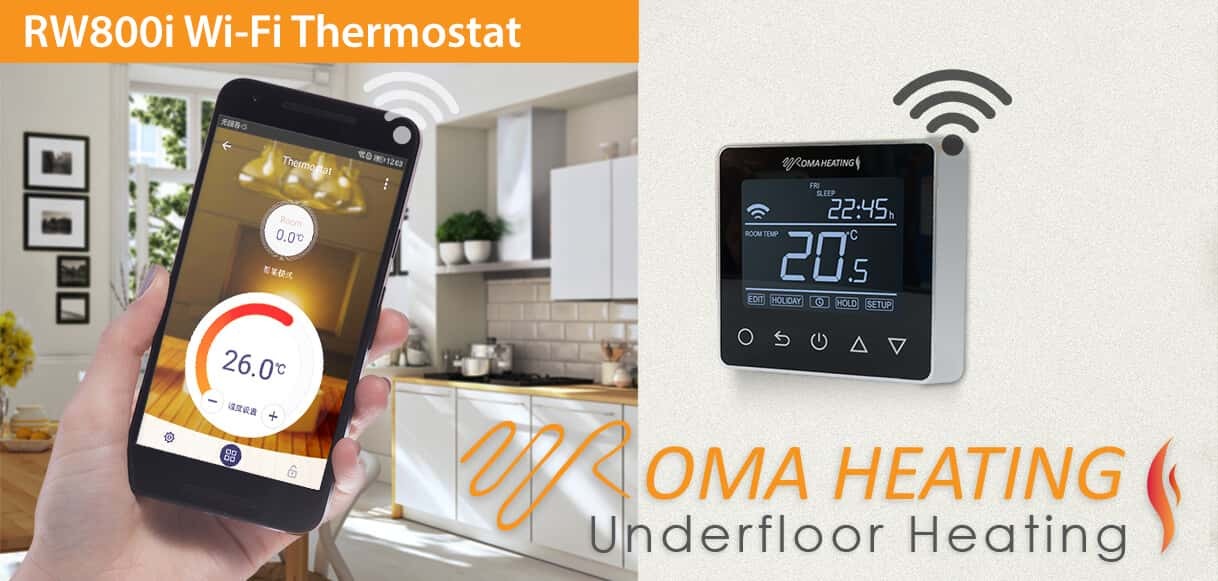 Once connected you can then invite other phones to link to the RW800i WiFi Thermostat, meaning the whole family can control the heating with ease. Multiple phones can be linked to the single thermostat so everyone in your home can control the heating from anywhere in the world on their phone or tablet.
Multiple RW800i WiFi Thermostats can be linked to the single APP providing you instant and easy control of your heating in all your rooms in your home or office environment.
The new RW800i WiFi Thermostat designed for Simple, Easy and Convenient control of your home or office heating.
Features
WiFi Connectivity to smart devices
Easy to use APP for instant control of heating from anywhere in the world
IP 21 rated
Touch screen functionality
Air and Floor temperature sensors
Fully programmable
Fully automated or manual heating control
Fits into standard 1 gang electrical back box
2 Week battery backup to hold settings in case of power cut
Each RW800i can connect with up to 20 WiFi devices
20 RW800i's can be connected to one control device
Master control option available
Control each thermostat in any location from any location worldwide
Thermostat lock function

Downloads
Download The WarmMe App
The app is available FREE on both Apple IOS and Android. Please use your smart device (phone, tablet etc) to scan the QR Codes below to download the app. You may have to install QR Code scanning software/app on your device.
Alternatively just click the images below to visit the app on Apple Store and Google Play.
Only logged in customers who have purchased this product may leave a review.