In Screed Heating Cable System
Perfect For New builds
Or Extensions
Compatible with HC Decoupling
Suitable For Any Floor
Enhanced with XPS
Compatible With Celotex
And Kingspan
Largest Wire In UK At 180lm
Free Technical Assistance
After Sales Support
Lifetime Warranty
Next Day Delivery Service 
In-Screed Heating Cable Under All Floor Coverings
In Screed Heating Cable can be installed under any floor. The perfect option for new build or extension projects, designed to be laid into a 50mm -100mm liquid or sand and cement screed substrate.
Easy to install and can be used in any room size or environment. To aid the efficiency of the heating, the cable should be laid directly on to a Celotex or Kingspan thermal insulation.
Alternatively, it can be laid on to our Cement Coated Tile Backer Boards, or XPS Hard Thermal Insulation Boards. The cable also comes with high adhesion fixing tape and easy to follow step by step instruction guide. This includes an equation to work out your exact wire spacing.
For peace of mind, the heating is also covered with a full 15-year manufacturers warranty. When being used as a primary heat source, it is recommended a floor coverage of at least 90% with the cable is achieved. The cable can be spaced as close as 70mm within your concrete substrate (providing approximately 260w/per sqm).
This makes the In screed cable the most powerful and responsive form of heating available under any floor.
Electric Vs Water - What is the difference?
The common misconception is that electric underfloor heating is far more expensive than it's water/gas counterparts. In truth, they are super efficient, when controlled correctly and installed on to thermal boards.
Unlike water based heating, which is predominantly regulated off an air sensor, electric heating should always be controlled off a floor sensor. This enables the heating to be far more efficient and responsive, far quicker than the more expensive and unreliable underfloor water heating.
The main benefit of underfloor heating is that there are no unsightly radiators required in most instances. Electric heating can be also used in many ways. It can used as a comfort heat source, taking the chill off the floor in the colder months, or as a primary heat, with 100% of the floor covered with the Loose wire or In screed cables.
Technical Support, Fitting and Warranty Information
For your peace of mind, all our heating mats and loose cables are covered with our Lifetime Guarantee. We are here to assist and advise, before or after a purchase has been made. We can help determine the best solution and coverage of heating you require for any project.
Our technical team have over 50 years combined knowledge and expertise in the installation and supply of electric heating. Therefore, there is no question or query we wouldn't be able to answer.
In the unlikely event the heating develops a fault, or stops working after installation, we offer free technical support over the phone. In most instances, we can help determine how this may have been caused and resolve the issue with you over the phone.
If an onsite repair needs to be done, we have a specialist team who can locate and repair any faults under any floor. Repairs can usually be rectified quickly and efficiently, with minimal disruption to your installation or daily routines.
In essence, electric heating is very basic how it operates, with the only mechanical/moving parts of the kit being the thermostat controllers. Therefore, when installed correctly, the recommended products are used and the heating signed off by a qualified electrician, your product is covered with our Lifetime Guarantee.
We are here to help, whatever the situation or query, 24/7 and 365 days a year.
The Roma Heating Team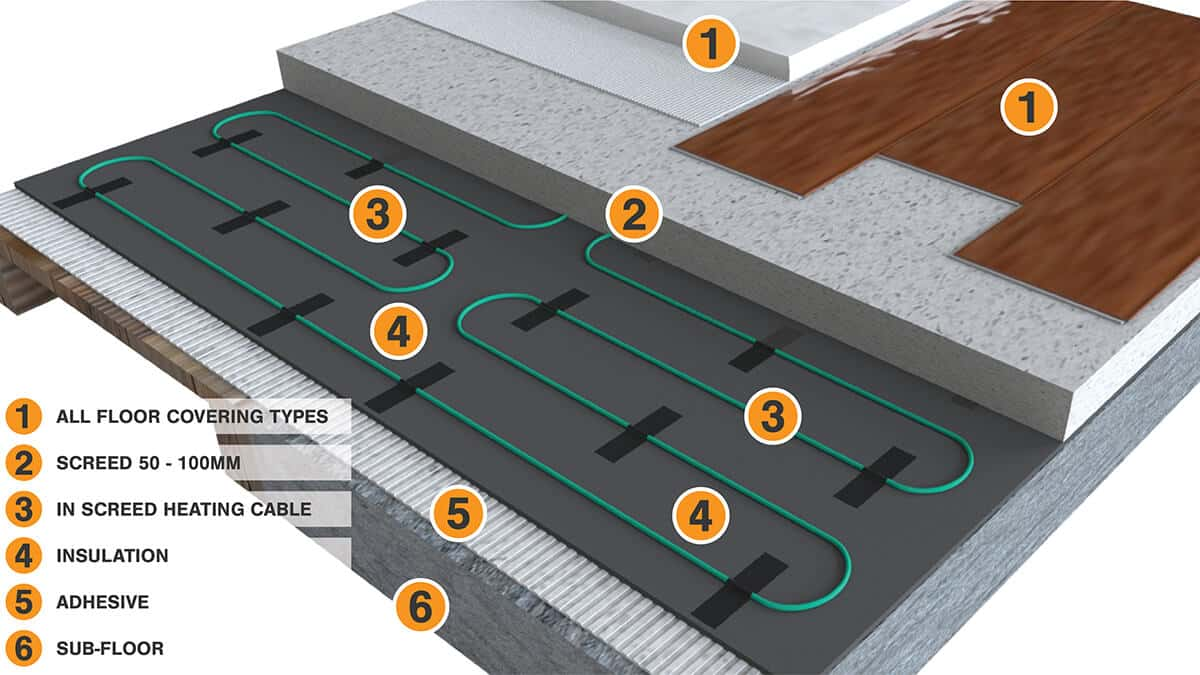 Inscreed Cable Features
Super tough & durable heat cable
18w/lm output / Dual Core - Potential To Offer 260w/sqm
Supplied with fixing tape
Suitable for any floor
Easy and quick to lay
15 Year Warranty
Full fitting instructions
Technical Free Phone Help Line
Next working day delivery service (when ordered before 12pm)
Technical Specifications
Operating Voltage 230/240V - 50Hz
18w Per Linear Metre /Output
Double insulated Element
Earth connection
Fully sheathed and earthed elements
2.5m long cold / connection tails
3mm long Floor sensor probe / 10k Ohms thermistor (supplied with all thermostats or purchased individually)

At Roma Heating we offer a free design service to make the whole process a little easier.
If you would like a free quote or just a little more information please feel free to get in touch with us on 01803 316131.
Our time and advice is free and we can recommend the best underfloor heating system for you.
Only logged in customers who have purchased this product may leave a review.