Foil Heating Mat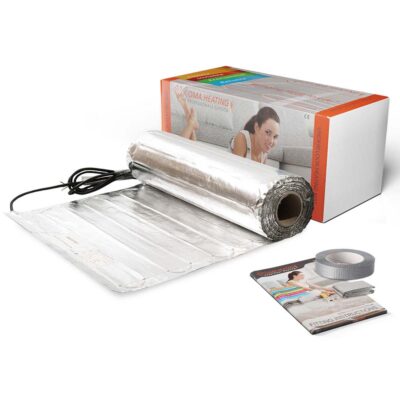 Underfloor Heating Foil
Heating under wood, laminate or click vinyl this is the mat for you. Designed for floating floors
£25.99 – £450.99 Exc. VAT
Transform your home into a cosy and comfortable space with our underfloor heating foil mats. Our products provide a cost-effective, energy-efficient, and easy-to-install solution to warm up your floors and create a more comfortable living space. With our underfloor heating foil mats, you can enjoy the benefits of modern heating technology without the hassle and high cost of traditional heating systems.
Our underfloor heating foil mats are designed to work with different types of flooring, including laminate, engineered wood, and carpet. The mats are made of a thin, flexible foil with a pre-attached heating cable, providing an even distribution of heat that warms up the floor from the bottom up.
One of the primary benefits of underfloor heating is that it provides a more efficient and cost-effective heating solution compared to traditional radiators. Underfloor heating reduces heat loss, resulting in lower energy bills and a more environmentally friendly home. With underfloor heating, you can also enjoy more consistent and comfortable heat throughout your living space, without the temperature fluctuations caused by radiators.
We offer a range of underfloor heating foil mats that cater to different room sizes and budgets. Our underfloor heating foil mats are a smart and practical choice that will enhance your living space and add value to your home.