GET A FULL UNDERFLOOR HEATING KIT
Our underfloor heating is second to none and comes with full
technical support! Get a full underfloor heating kit!
Insulate
Electric heating is highly efficient when insulation is installed directly beneath. The importance of insulation should not be underestimated. It is a key component in the entire system. 
Heat
There is a heat system for any flooring. Whether you are looking to use the heating as a primary heat source or to take the chill off the floor, we have a heat package that will work for you. 
Control
We offer a wide range of thermostats. From our basic and simple to use manual thermostat to the top of the range Wi Fi Colour thermostat, we have something for everyone.
Trade / Stockist Accounts
If you are a regular installer or looking to be a stockist, please register your interest with us. When registered with us, you will receive a discounted rate and many other benefits. 
Lifetime Warranty
Under R-Mats and R-Cables are covered with a Lifetime Warranty. Once your project has been completed, simply register your heating online on the Roma website.
Free Next Day Delivery
Any orders placed before 12pm will be dispatched on a next day delivery service with one of our selected couriers. We can even offer timed or weekend deliveries if required. 
Underfloor Heating is up to 25% more efficient than radiators
The best heating systems are the ones that work for each of us. However, there are times when what works for one person does not necessarily work for another. This is why we other the widest range various of heating systems, suited to every individual and lifestyle. Unsure of what system is best for you, then give us a call or email.
From pre-sales to our aftercare we are second to none. We are here for you, no matter what the issue or query you may have. If you have the time, please leave us a review or Google or Trustpilot. Not only do reviews give others an opportunity to sound off on what they love or hate about various kinds of heating systems, but they also provide information that you may not find anywhere else. All feedback is appreciated and important to us. 
What are the benefits of underfloor heating?
The heat from a UFH system has a much more even distribution, which means that it is quick and efficient, heating from your feet to your head. If using the heating as a primary source radiators, unsightly radiators are no longer, offering more space in the room. As electric heating offers even heat distribution, there is no risk of random hotspots, like offer forms of heating.
UNDER TILE HEAT MATS (R-MATS)
If you're looking for a high-powered system that can provide warmth in cold areas or help maintain a constant temperature throughout your home, then look no further than our under tile heat mats! These mats can also be installed under any floor, when embedded in a self levelling compound. Available in 150w/sqm output or 200 w/sqm per square meter options and a variety of mat sizes. Roma Heating, the professional's choice
HEATING A BATHROOM ?
UNDER TILE LOOSE WIRE (R-CABS)
The loose cable is designed for heating under tile and stone floors. They offer flexibility and wall to wall coverage as not restricted by the mesh backing, like the R-Mats. Perfect for irregularly shaped areas such as bathrooms and wet rooms. We can also supply the HC decoupling membrane to be used with either the 100w/150w/200w/m2 options, naturally spacing the cable for you and importantly decoupling the floor before tiling. 
ALUMINIUM FOIL MAT FOR UNDER LAMINATE, WOOD & LVT FLOORING
The Aluminium Foil mat can be fitted under most click together floors like Laminate, Engineered Wood & the popular LVT flooring. The mat uniquely is installed directly beneath the final floor and does not need to be embedded in a self levelling latex, like the majority of systems available. 
Under Laminate or Wood the Foil mats should be used with our 6mm impact plus insulation. Under LVT, then our 6, 10, 20 or 30mm XPS boards should be used. Please check with your floor supplier that the Foil heating can be used, as some types of LVT are not suitable. Alternatively give our technical team a call or email and we will be more than happy to assist you.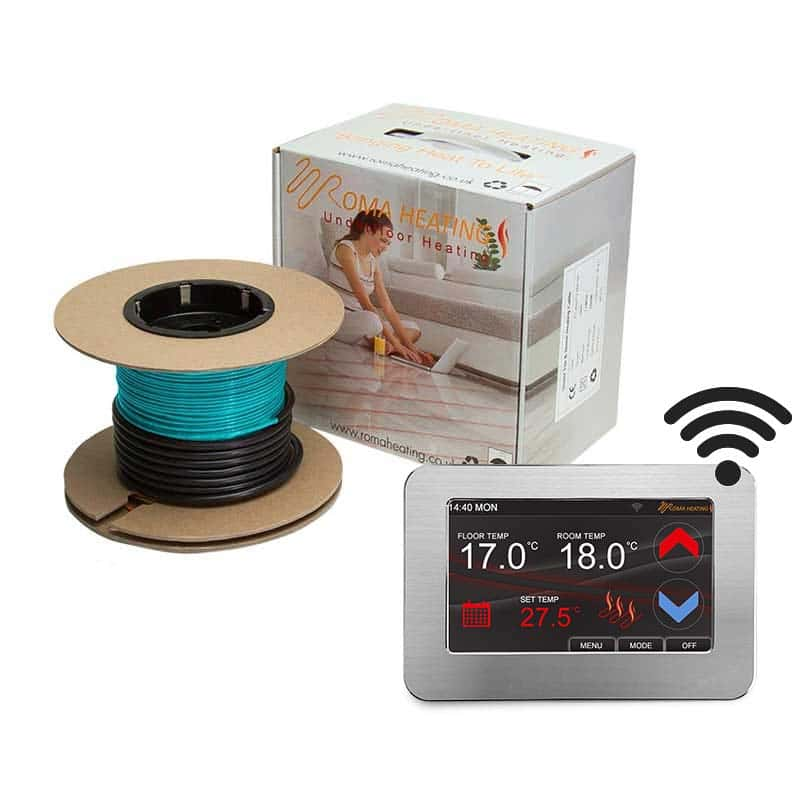 UNDERFLOOR HEATING FOR NEW BUILDS OR EXTENSIONS
The powerful In screed loose cable, unlike the R-Cabs are designed to be buried in a 50-70mm concrete floor screed. Once embedded, any type of covering can go on top. This system works best for new builds and extensions, as the heating can be installed in the substrate. For efficiency and response, the cable should be laid directly on Celotex or Kingspan. Alternatively, the heating can be used with our XPS or Tile backer thermal insulation boards.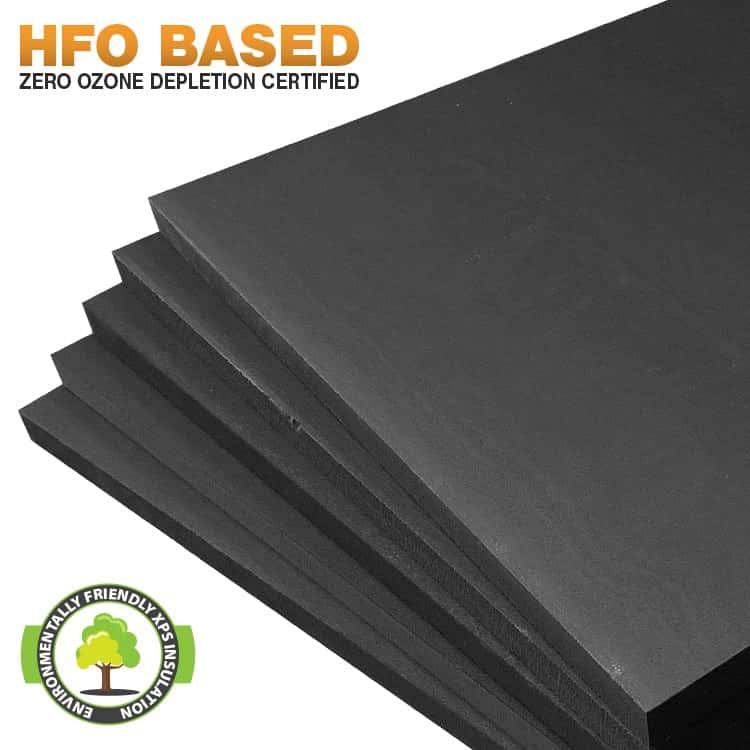 We offer 3 different types of insulation, with the most suitable choice dependant on the sub floor and what floor the insulation is being installed beneath. Under Laminate or Wood, we supply the Impact Plus insulation, offering an underlay on the foot and protection for the heating. All other floors, we have either the XPS or Tile backer boards, with the most suitable option dependant on sub floor and budget.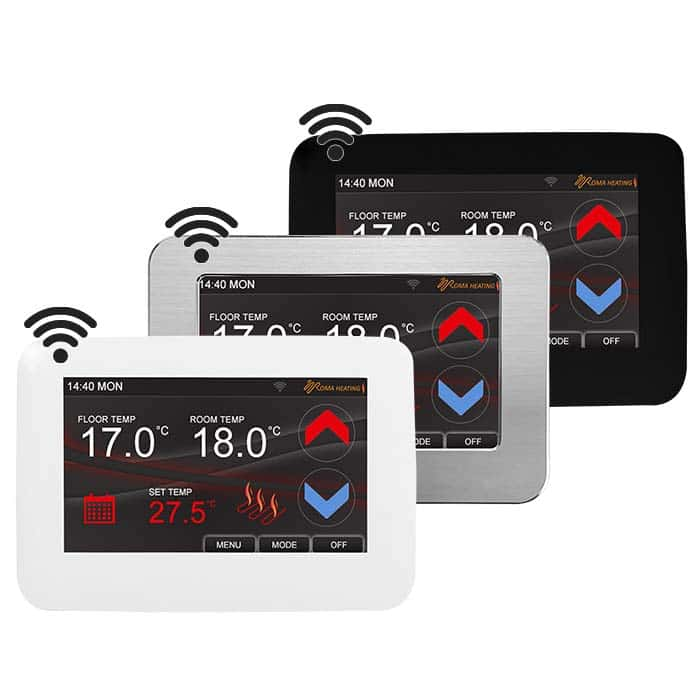 Our thermostats are designed to be stylish, easy and reliable. We offer a selection or Wi Fi enabled thermostats, including the top of the range CT1000 Colour Touchscreen thermostat. Not only do all the Wi Fi models look great, they give you the ability to control the heating from your phone or tablet. If Wi Fi is not your thing, then we have a range of digital thermostats and analog thermostats to choose from. 
Underfloor Heating Help Centre
We know how much you love your new electric underfloor heating. But don't worry, We are here to help to make life easier! Just follow this link and hop over to our online centre where one click can take care of everything – or contact us directly if necessary.