Trade Trusted
A trusted trade supplier.

Retail Outlets
We have a growing number of retail outlets.
Fast Delivery
Order before 1pm receive it next day*
Electric Underfloor Heating
SECURE SHOPPING
Shop Safely and securely with Roma underfloor heating. Payments are 100% secure and remain confidential.
LIFETIME WARRANTY
Our heating warranties range from 15 years to lifetime warranties, and Roma will certainly take care of its customers.
HELPFUL ADVICE
Our friendly, knowledgeable staff are always here to help. providing you with a service that's free and always happy to help.
FREE NEXT DAY DELIVERY
Order before 1 pm for free next working day delivery to U.K mainland addresses.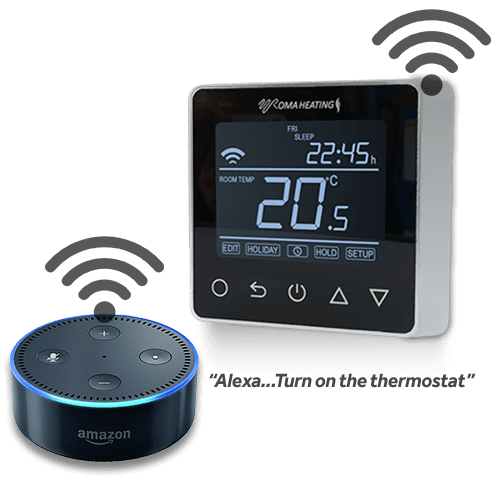 Intelligent Underfloor Heating
Our RW800 thermostats can be controlled by your phone or an
A.I system. Like the Amazon Alexa.
Home automation has never been better and now it's unbeatable
adding your underfloor heating into the mix.
"Alexa … set the kitchen to 26°C"

Roma Heating Trade Account
At Roma heating, we work closely with the trade and we understand that you work to deadlines become a trade member and receive a Roma Heating priority account.  With some fantastic benefits.
Help & Guidance
If you need any help. Please remember our time and advice is free. And at Roma Heating we like to see all our customers have a smooth and pleasant experience. So a quick call to our experts will show you how easy and simple it is to install your underfloor heating system.