In Screed Cable - New Builds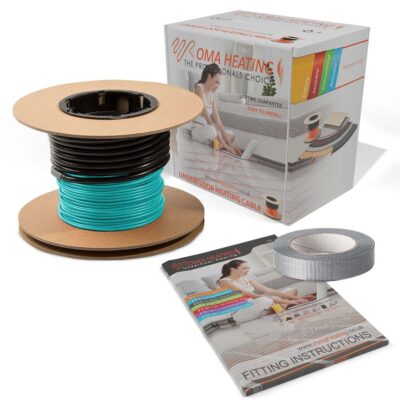 £34.99 – £561.99 Exc. VAT
Upgrade your home with our high-quality Inscreed Cable kits, designed to provide efficient and reliable underfloor heating solutions. Our products are perfect for homeowners who want to enjoy the benefits of modern heating systems while creating a more comfortable and energy-efficient living space. With our Inscreed Cable kits, you can enjoy a luxurious and consistent heat throughout your home, without compromising on style or comfort.
Our Inscreed Cable kits are designed for use in concrete screeded floors, and are ideal for new builds, extensions, or renovation projects. The heating cables are laid in a pattern within the screed, creating a warm and even heat source that can be controlled by a thermostat. The Inscreed Cable kits are a cost-effective, low-maintenance heating solution that is built to last.
One of the primary benefits of underfloor heating is its ability to create a more comfortable and efficient living space. By providing a consistent and even heat, underfloor heating eliminates the hot and cold spots created by traditional radiators, and offers a more pleasant and natural form of warmth. Underfloor heating also reduces heat loss, resulting in lower energy bills and a more environmentally friendly home.
We offer a range of Inscreed Cable kits to suit different room sizes and budgets. Our products are made from high-quality materials, and come with a comprehensive installation guide and a lifetime warranty, giving you peace of mind that you're getting a reliable and high-quality product. Our Inscreed Cable kits are easy to install and can be used in a variety of different applications, making them a smart and practical choice for any home.